Invitation 2018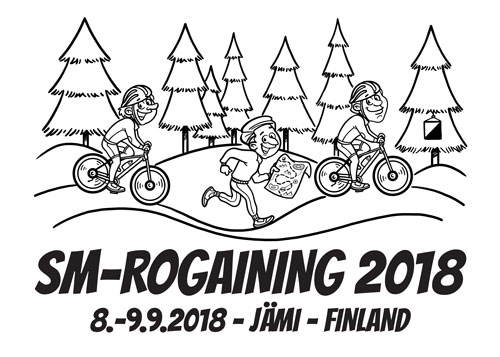 Finnish Rogaining Championships 2018 and 10th Retki-Rogaining
8.-9.9.2018 Jämi -Finland
All orienteerers, hikers, mountain runners, hill walkers, outdoor adventurers, firms, friends and families are cordially welcome to participate in the biggest Finnish 24h rogaining event 2018. And now 2018 also Finnish championships for mountainbikers.
Event schedule:
Registration starts January 15th 2018 12.00 Finnish time(GMT +2.00)

Bulletin 1, May 15th
Bulletin 2, August 15th


Start of 24h competition September 8th 2018 12:00

Event Centre
Is located in Jämi, about 70 km from the city of Tampere.
Competition classes
There are three competition classes in the 10th Retki-Rogaining.
24-hour event is for those who really enjoy rogaining. ( Finnish Championship)
8-hour event is for those who want to test themselves.
MTB 8-hour event is for those who want to test themselves by mountain bike. ( Finnish Championship)
Teams
A team consists of 2 to 5 members.
Age limit
All participants must be at least 15 years of age.
Team classes
In the 24-hour competition there are team classes as follow:

MO Men open
WO Women open
XO Mixed open
MY Men under 23 years
WY Women under 23 years
XY Mixed under 23 years
MV Men Veteran 40+
WV Women Veteran 40+
XV Mixed Veteran 40+
MSV Men Superveteran 55+
WSV Women Superveteran 55+
XSW Mixed Superveteran 55+
MUV Men Ultraveteran 65+
WUV Women Ultraveteran 65+
XUW Mixed Ultraveteran 65+

The teams compete in every class for which they are eligible, for example juniors, veterans, superveterans and ultraveterans compete in open category, too.
In the 8-hour competition there is only one team class, OPEN.
In the MTB 8-hour competition there are only three team classes, MEN, WOMEN and MIX
Compulsory equipment
The list of compulsory equipment will be published in the Bulletin 1.
Preliminary competition timetable
Friday 7.9.2018
18.00 Competition Center Opens

Saturday 8.9.2018
12.00 (noon) Start of the 24-hour
21.00 Start of the MTB 8-hour event
22.00 Start of the 8-hour event

Sunnuntai 9.9.2018
05.00 Finish of the MTB 8-hour event 06.00 fFnish of the 8-hour event
12.00 (noon) Finish of the 24-hour event

Registration
The registration is made over the internet at: Registration System.
You will receive an invoice by e-mail after your registration. Your registration is not confirmed untile the registration fee is paid.

The maximum number of participants for the Finnish Championships categories is 800 persons in total. In the 8 hour category is no limit.
Entry fees
The entry fee of a team is the sum of individual fees of the team members.

Class         Paid by 1.4.		 Paid by 7.7.		      Paid by 24.8.
24 h	      70 €/person	         80 €/person		      95 €/person
8 h MTB	      50 €/person		 60 €/person		      70 €/person
8 h           50 €/person                60 €/person		      70 €/person

Event map
Scale 1:40 000, h = 5m, printed topographical map.
Checkpoints
The visits at the checkpoints are recorded by the teams by using an electronic punching system. The rent of the punching system is included in the fee.
Catering
All catering at the hash house during the event is included in the fee. Besides that there will be water posts along the course. The post-event meal (or breakfast) is also included.
Prizes
Best teams in every class shall be awarded a prize.
Rules
IRF rules with deviations announced by the organizer will apply.
Accommodation
At Jämi there are several options for accommodation. For further information and bookings, please contact www.jami.fi
Ground transportation
We are prepared to organize a bus transportation from Tampere airport and railway station to the event centre on the evening of September the 7th. The fee of the transportation is not included in the race fee, but will be nominal. Further information will be available on this site later in the spring. If you need bus transportation, please let us now.
Additional information
Further information will be added on the website whenever it becomes available.

Contact
Organizer: ACT ry Event Manager: Jari Kaaja, jari.kaaja at x-sprint.com, +358 50 5979 392 Course Setter: juhani Isaksson Result Service: Miika Pietilä International contact: Miika Pietilä, miikapietila at miip.biz
Bulletin 1
Further information will be added on Bulletin 1. You will find it May 15th, on this page.
Welcome to Jämi!